For the uninitiated, Sheila is what I call a Skoolie some friends and I built in the summer of 2016.  For a general overview of the entire project, see my post about #SheilaTheBus in my portfolio of major projects.
There are a lot of places on the Internet where you can get inspiration and information on building yourself a Skoolie.  There is no shortage of opinion and suggestions out there –  some simply stated as fact, some backed up with evidence.  Keep in mind that local legislation may differ from one region to another and that some people's opinions may not be stated as such and may not be an informed opinion either.
In my posts on the subject, I'll try to provide the rationale behind my opinions and state for what region and time my notes about legislation cover.  I've had a lot of people give me advice throughout this project which I thought of as being very bad advice.  In many cases the advice wasn't necessarily bad, born from malicious thought, but were bad by being subprime for our situation, ignorant of our needs, or simply unsafe.  In many ways I appreciate some of the bad suggestions as it strengthened my reasoning for other solutions.  If you embark upon a similar project, I would suggest you carefully consider any and all advice, opinions, and options and come to your own conclusions since you will be the one ultimately liable for your vehicle and you will be the one who will need to fund your project.
Statistics at time of purchase
Platform: International 3800
Carriage builder: Les Entreprises Michel Corbeil, Inc.
Year: 2003
Engine: International Navistar T444E 7.3 L V8 Turbo Diesel
Transmission: Allison MT 643
Mileage: 313,577 KM
Statistics after conversion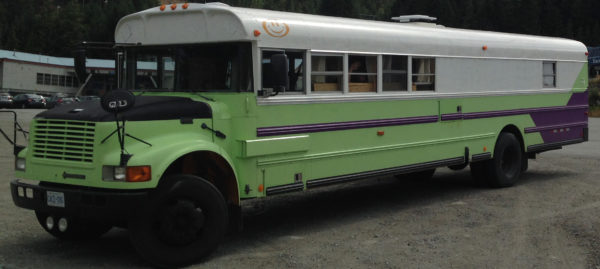 Seating capacity: seven passengers plus driver.
Sleeping capacity: four bunks, one couch.
Domestic electrical system: three deep cycle batteries, 3,000 Watt inverter, 69 Amp 12V PSU.
Fresh water storage: 200 L
Grey water storage: 75 L
Storage capacity: twelve bikes, one week of food, two weeks of clothing per bunk, other miscellaneous gear.
Special thanks
Chris, Kevin, and Ivan for making this project a reality.
Chris' family for sewing our couch cushions and providing us with a bunch of food for the road.
My parents for teaching me how to follow my dreams and providing a bunch of wood, a welding machine, and several tons of leftover steel which came in handy on this project.
CMo and Erin for providing us a work space in order to make the conversion happen.
The Klein family for a large quantity of wood and related construction material.
Funhaven for a variety of wood.
The Farnworth family for our chemical toilet.
Jeff and Nora for our water hook-up hose and shower head.
Guy from Kijiji/South Ottawa for an entire kitchen worth of cabinets.